Regular price
Sale price
$76.00 USD
Unit price
per
Sale
Sold out
A wool filled pillow is the answer to your best nights sleep!
Our pillows are filled with pure wool batting to offer ideal support for your head and neck, amazing density and texture to feel comforted and of course the benefits of a 100% natural product locally grown and milled.
With the positive benefits of wool they are sure to improve you sleep.
Wool regulates temperature to keep you comfortable whether you sleep hot or cold.
Wool holds moisture away from your body so if you sweat as you sleep you will stay more comfortable.
The wool batting is dense and holds its shape giving you the ideal support all night long so you don't wake up needing to adjust your pillow.
Wools natural scientifically proven comfort factors help support and ease sore muscles and joints (arthritis)
Wool is hypoallergenic and has natural anti-microbial and anti-bacterial properties ensures a cleaner and allergen free pillow.
Our pure cotton zippered pillow cases allow the wool to breath and allow for easy care.
Available in low loft for back sleepers and medium loft for side sleepers.
Our wool pillows are adjustable! You will notice your pillow will compress approximately 20-30% in the first weeks of use. If you still find the loft too much you can simply unroll the wool and remove a bit and refold back into the pillow case.
Not only will our wool pillows improve your family's quality of sleep, but when you buy a Revolution Wool Company product you support Canadian farmers and our local economy. As always our wool 100% proudly grown, milled and made in Ontario Canada!
Size:
Mini- 14" x 20" (Ideal as neck support, lower back or knee support)
Standard - 20" x 26"
Queen - 20" x 30"
King - 20" x 36"
Materials: 
Wool Filling: 100% Canadian wool from our family farm 
Case: 100% Cotton STANDARD 100 by OEKO-TEX®
Why wool? 
Regulates body temperature
Breathable, wicking excess moisture away
Anti-bacterial & anti-microbial 
Inhibit the growth of bacteria, mould and mildew
Hypoallergenic
Resists dust mites
Resists odours
Durable & long-lasting
Natural fiber
Renewable resource
Biodegradable 
Fire resistant
Easy to care for
Naturally cleans the air
Why you love us? 
Supporting local farmers and community
Animal welfare, our sheep are a part of the family! 
100% Proudly Canadian wool
High-quality standards
Our wool is grown and shorn on our family farm in Canada Ontario
Home to Canada's best wool bedding!
Caring for a wool pillow is easy, 
Regular maintenance, Zippered pillows 
Recommend every 1-3 months. Adding one or more pillowcases help keep the cotton casing and wool filling clean.
Remove the wool filling unfold and air out in the sunshine (outside or indoors). Some natural oils from the sheep remain in the wool after processing, you may notice a gentle scent. We love adding a few drops of essential oils (our favourite is lavender) for added freshness. 
Wash cotton casing with regular laundry 
Wool pillows naturally compress 20-30%, for the original loft fluff the wool or remove some filling to suit your unique needs. Before folding and placing back in the cotton casing.  
Deep cleaning (recommended only for spills or when your pillow is very dirty)
Keep wool filling inside the cotton casing 
Fill a large sink or bath with lukewarm water adding a small amount of only Eucalan detergent (available here, It is important to use wool-specific detergent when washing wool for a proper clean and condition.)
Gently press your pillow to submerge, and allow to soak for 15 min
 Repeat a gentle pressing and squishing motion up and down in the water. Ensure you never agitate wool, this will cause the wool to felt becoming clumpy!
Rinse with lukewarm water and repeat the same gentile squishing motion until water runs clear.
Squeeze out as much water as possible, use a towel to remove excess. 
Remove the filling, unfold hang to air dry, and machine dry cotton casing with regular laundry.   
Soaking and rinsing steps 3-5 in a top load washing machine
Keep wool filling inside the cotton casing 
Set machine to use cold water
Add a small amount of Eucalan detergent (available here)
Allow the pillow to go through the soak and spin cycle 
Follow steps 6-7 above. 
Please ensure you follow these instructions as carefully as possible, it is important to always use only lukewarm water be gentle and never agitate wool. This will always cause the wool to felt and become clumpy.
Share
View full details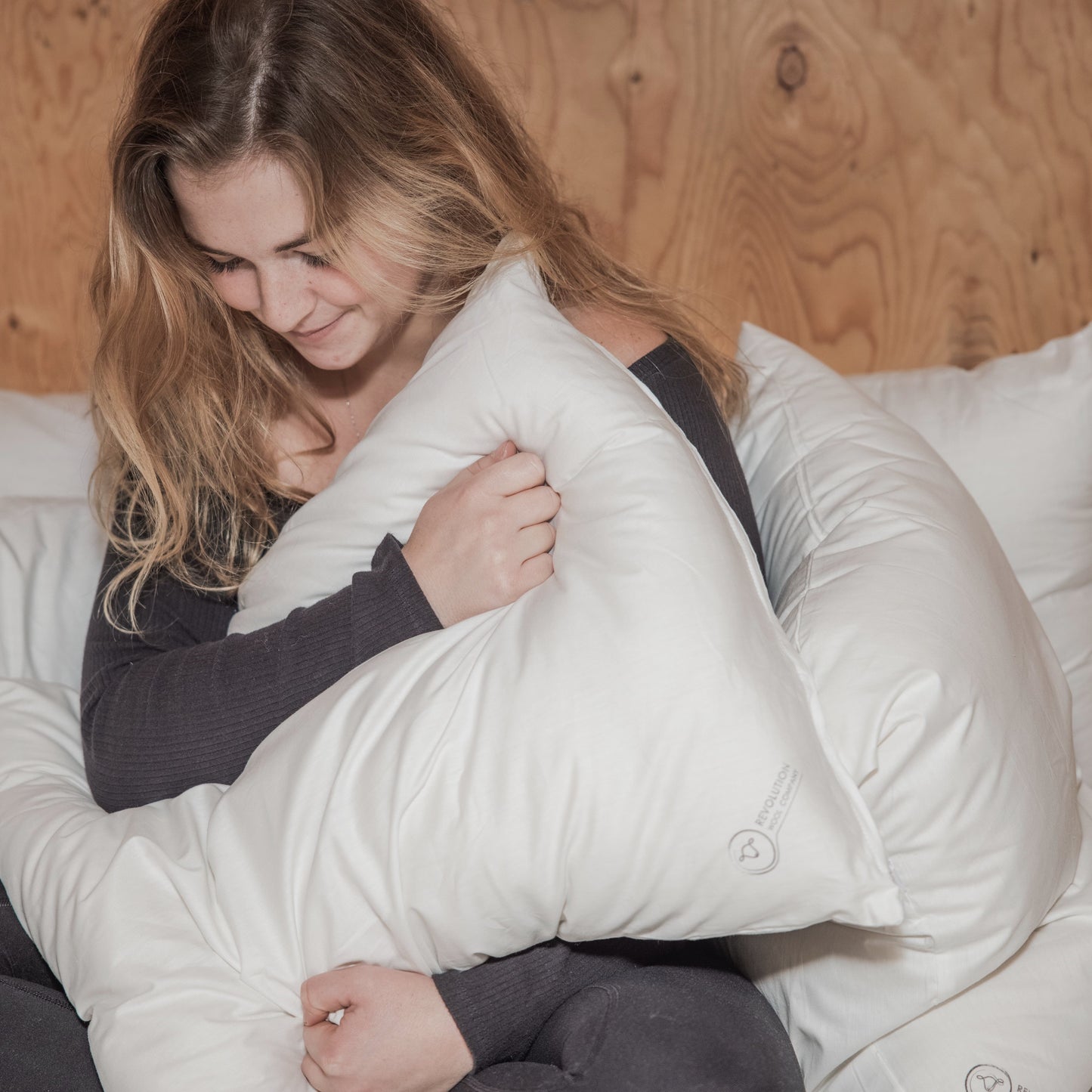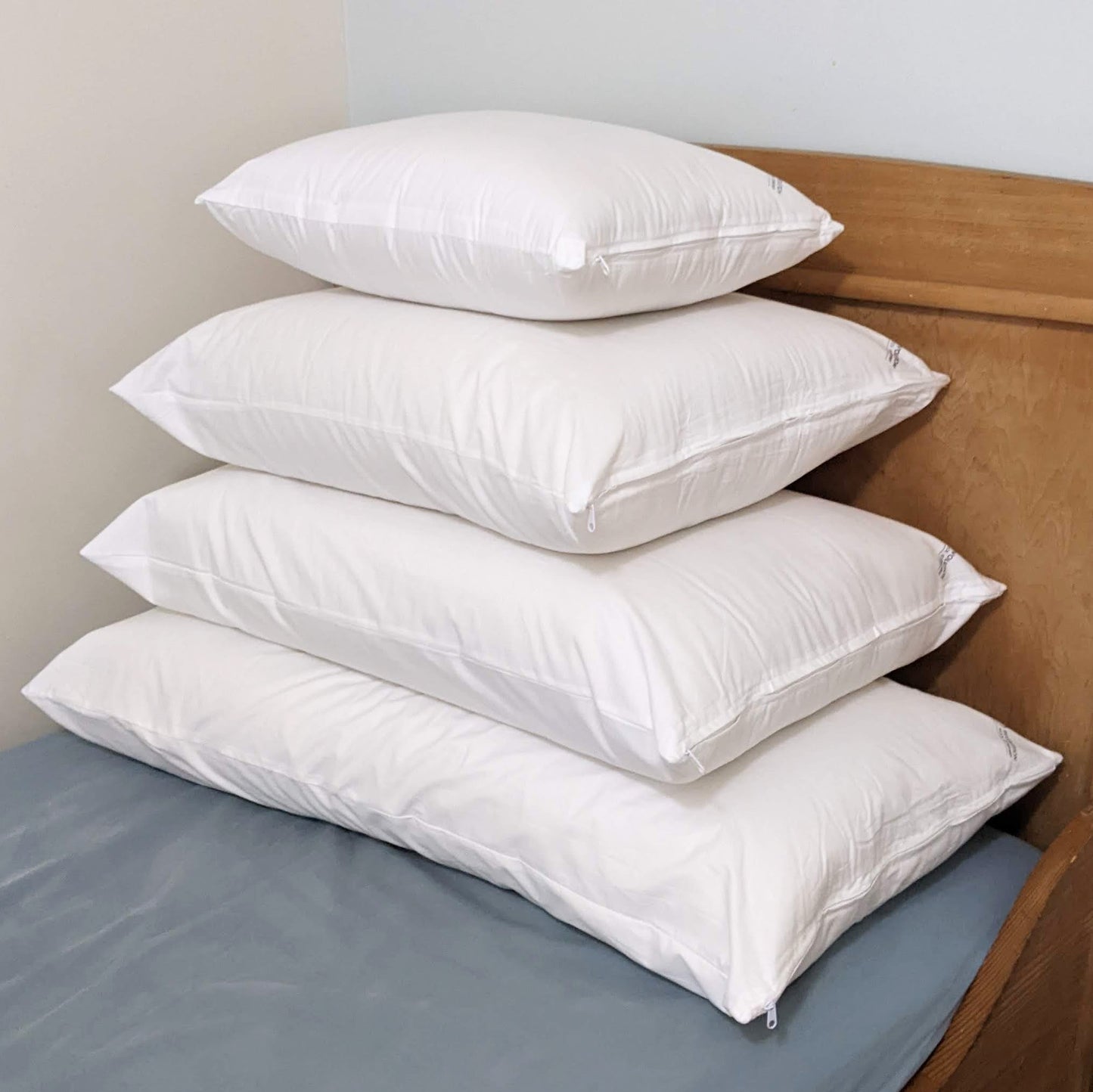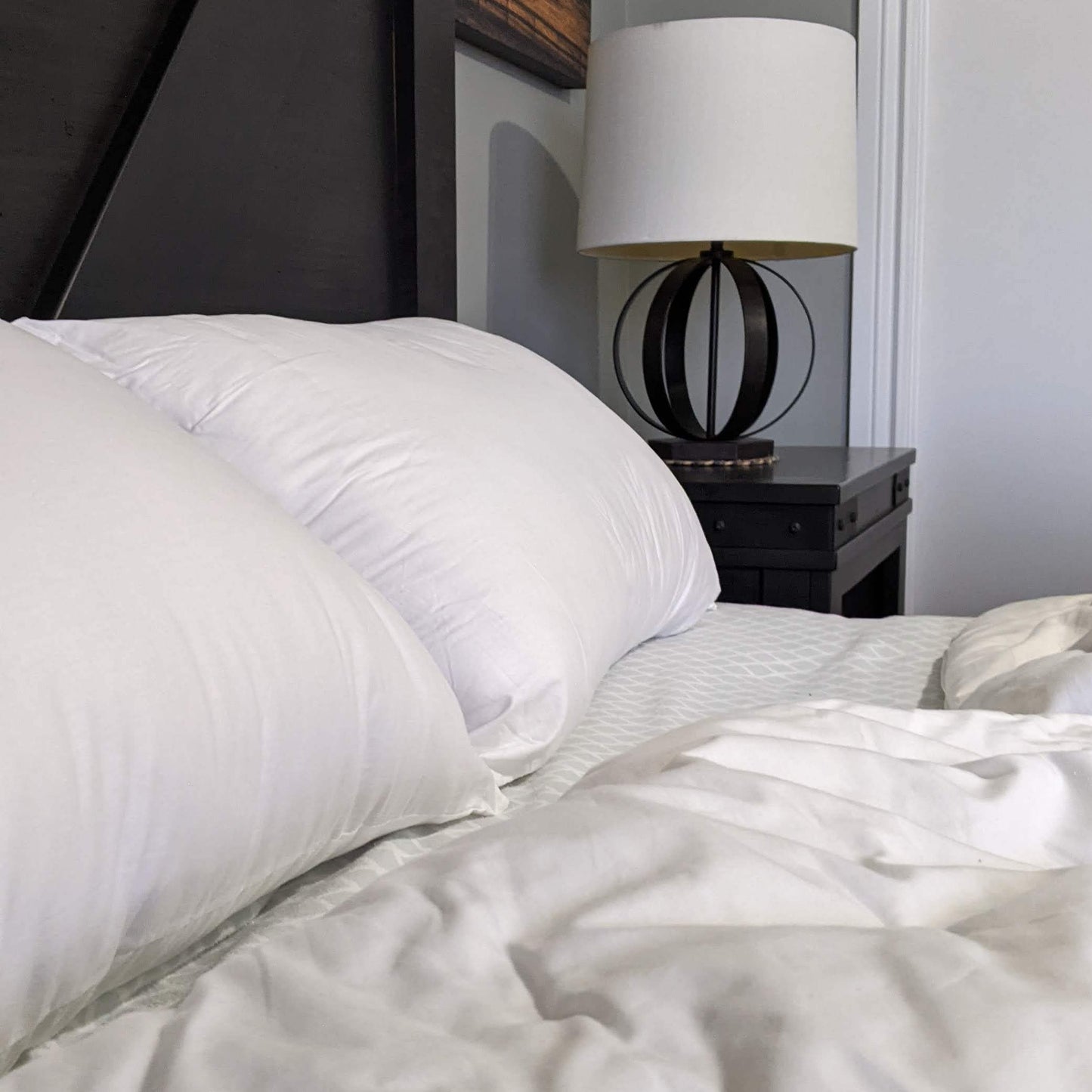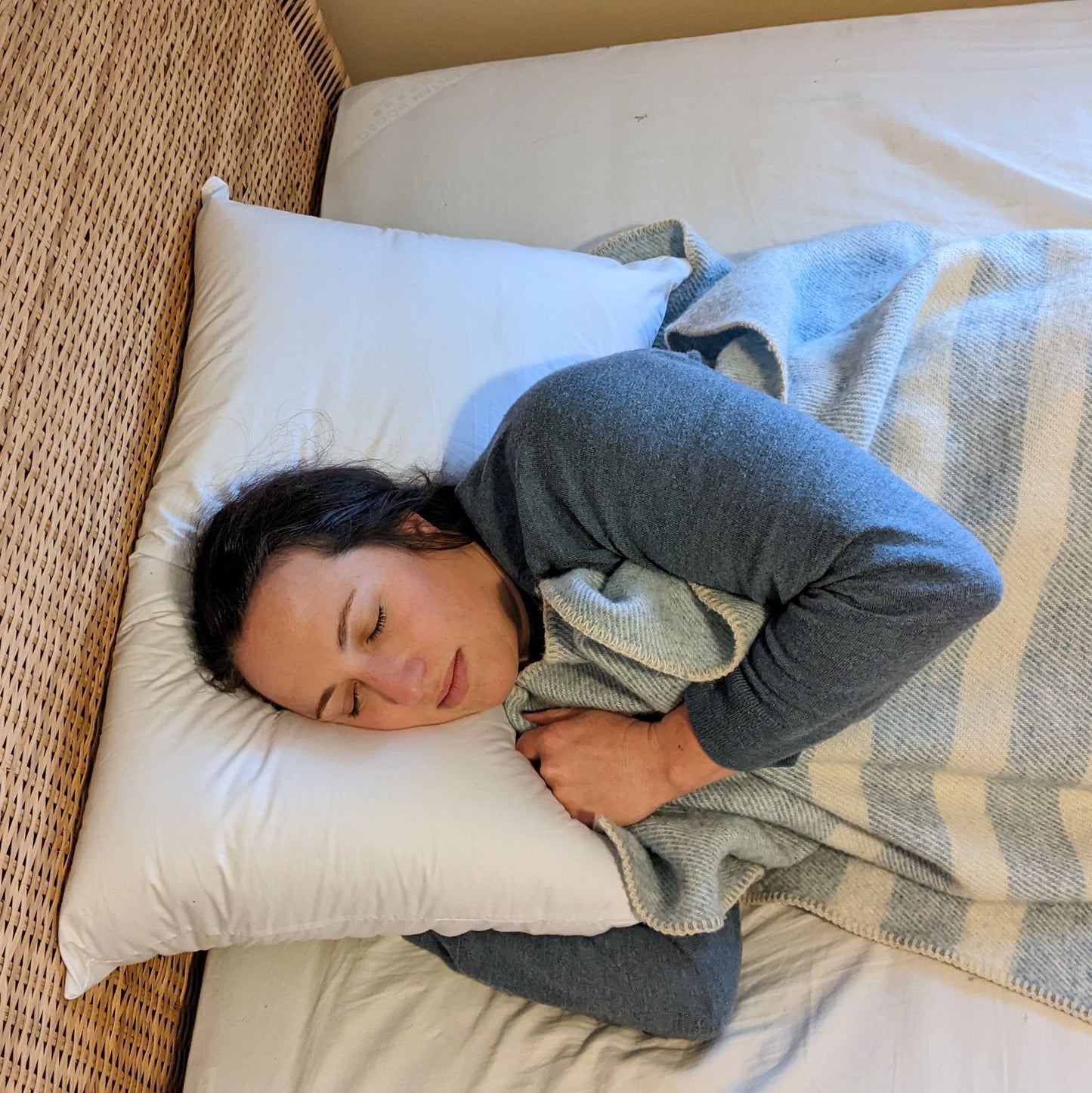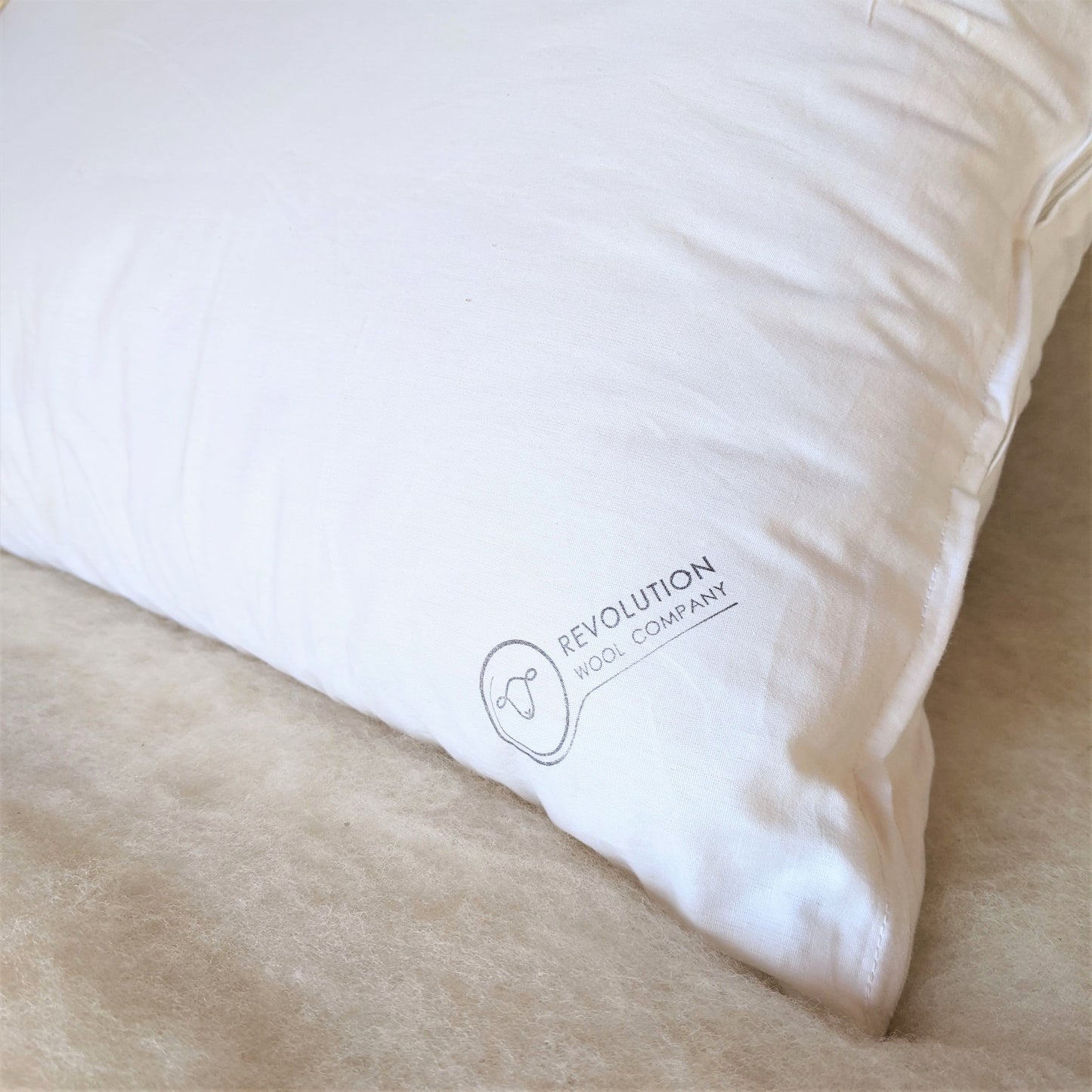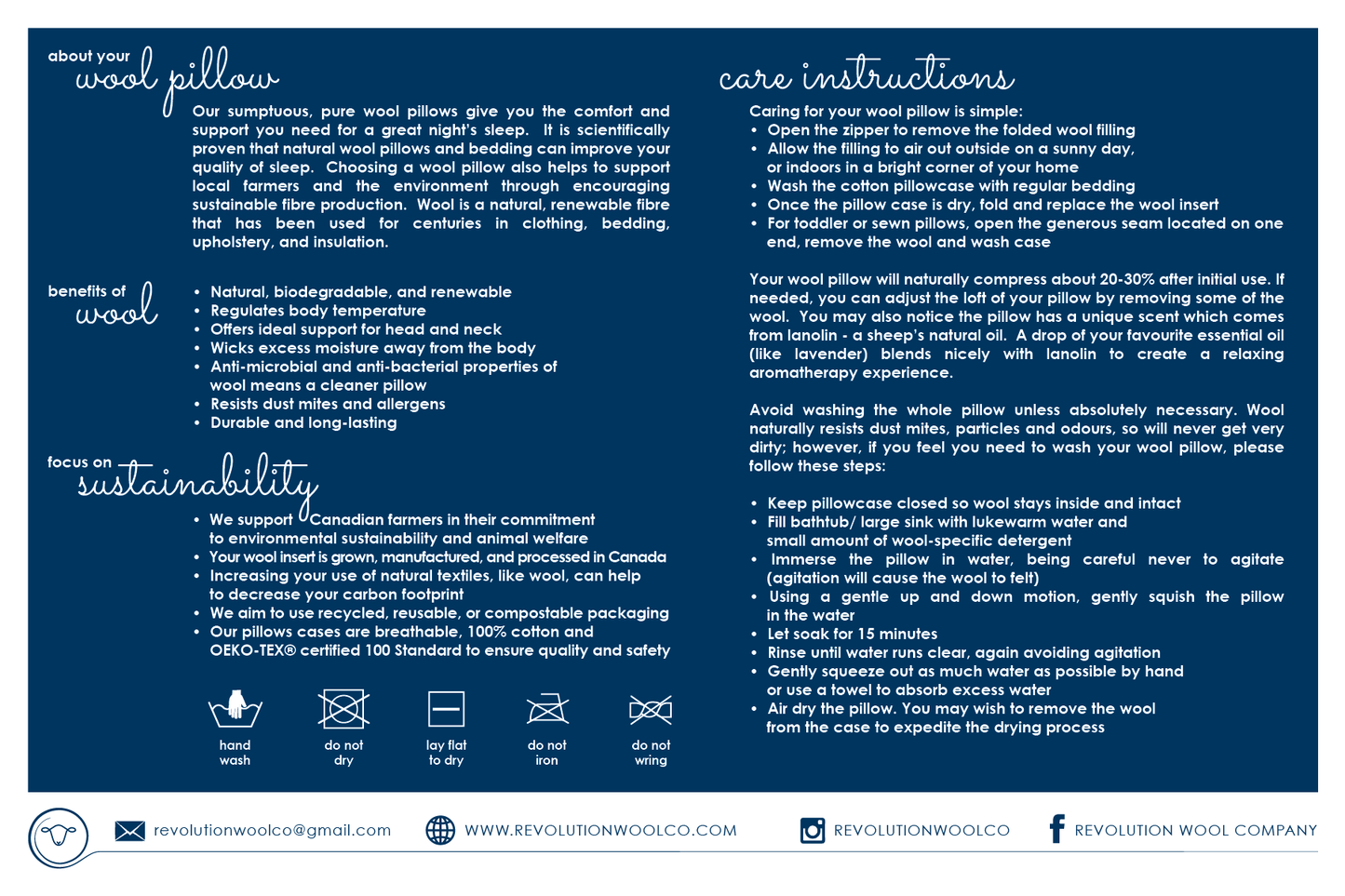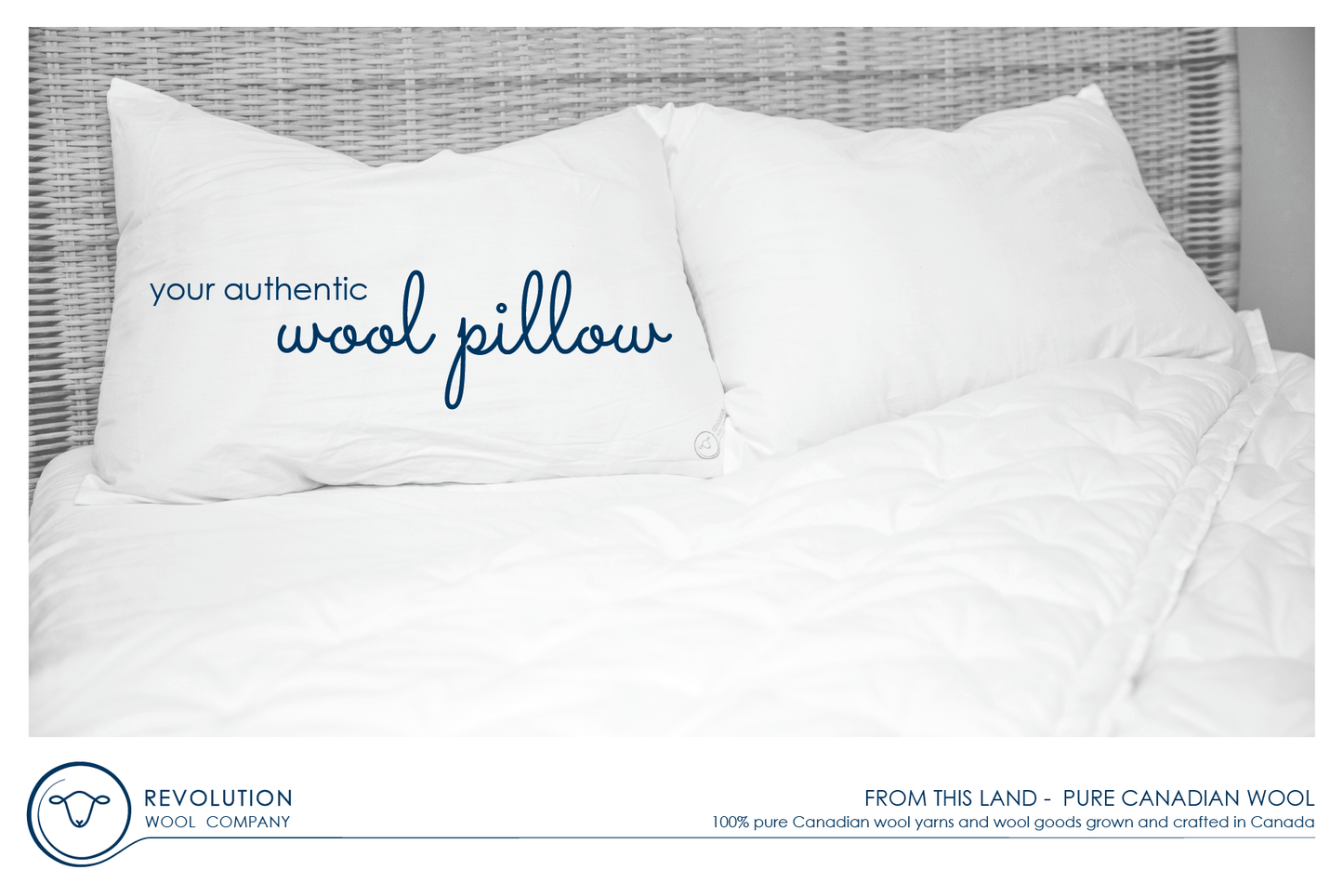 Best gift ever
I received a Medium loft pillow for Christmas 2020. It has been the best pillow I have ever used. I have suffered from neck issues my whole life and it has helped enormously. After almost three years of use I am also amazed at its longevity. About 6 months ago I thought I was going to have to replace it but I took the batting out, stretched it out, put it in the sunshine for an afternoon and it came back to almost new. I would HIGHLY recommend this pillow.
Pillow Love
I love my new pillow! I am definitely getting a better sleep❤️
Best pillows
After countless different pillows over the last year I finally found ones that keep me cool. These are the best pillows and only pillows I will ever own. No price matters when it comes to a good night's sleep and I now get a good night's sleep. Thank you for making me a believer.
Just as happy with my second purchase as I was the first! Love these pillows... neck pain: AWAY!
The Toddler 14x20 size makes for an excellent seat cushion for my office chair: an IKEA ODGER swivel chair. Along with a sheep skin for the back, this formerlyhard chair is now supercomfortable.