Regular price
$303.00 USD
Regular price
Sale price
$303.00 USD
Unit price
per
Sale
Sold out
Our amazing wool duvets are proudly made in Canada with 100% wool from Ontario family farms and paired with a breathable cotton fabric that is grown and milled in the United States. We are the only company to offer a truly local duvet ... wool, cotton and manufacturing all sourced as close to home as possible!
The ideal comfort, temperature regulation and hypoallergenic properties of wool make it the perfect choice for bedding that will improve your sleep all year round!
Wool is a sustainable material with natural properties regulating your body temperature keeping you warm during cold Canadian winters and breathability during spring and summer while wicking away excess moisture. Its anti-microbial and anti-bacterial properties inhibit the growth of bacteria, mould and mildew. Keeping you naturally healthier, dryer and cleaner all night long than any other duvet on the market.
Not only will our duvets improve your family's quality of sleep, but when you buy a Revolution wool product you support Canadian fiber farmers and our local economy. As always 100% proudly grown, milled and made in Ontario Canada!
Size:
Twin Duvet 64" x 88"
Queen Duvet 89" x 90"
King Duvet 106" x 90"
Materials & Details: 
Wool Filling: 100% Canadian wool from our family farm and farm partners
Case: 100% Cotton grown and milled in the Unites States
Bag: White cotton drawstring storage bag
Details: Detail stitching to keep wool in place, durable edging, corner loops to secure to duvet cover
Why wool? 
Regulates body temperature
Breathable, wicking excess moisture away
Anti-bacterial & anti-microbial 
Inhibit the growth of bacteria, mould and mildew
Hypoallergenic
Resists dust mites and odours
Durable & long-lasting
Natural fiber and renewable resource
Biodegradable 
Fire resistant
Easy to care for
Naturally cleans the air
Why you love us? 
Supporting local farmers and community
Animal welfare, our sheep are a part of the family! 
100% Proudly Canadian wool
High-quality standards
Our wool is grown and shorn on our family farm in Canada Ontario
Home to Canada's best wool bedding!
Care Instructions
Caring for a wool duvet is easy. Always use a quality duvet cover to help protect the wool duvet. Wool is self cleaning, naturally resisting odours, bacteria and allergens. Avoid washing your duvet unless necessary if very soiled.
Regular maintenance
Every 1-3 months air out your wool duvet in the sunshine. While washing your other bedding is a good time. Spot clean or hand wash any soiled parts if possible with lukewarm soapy water.
Deep cleaning or washing
Fill a large sink or bathtub with lukewarm water and small amount of wool specific detergent like Eucalan. Gently press duvet into the water to submerge, allowing to soak for 15 minutes. Repeat a gentle pressing motion up and down in the water. Ensure you NEVER agitate wool, this will cause the wool to felt and become clumpy! Repeat as needed until the water runs clear. Let water drain and gently squeeze out as much water as possible. You can use the spin cycle on your washing machine. Hang to air dry.  
Share
View full details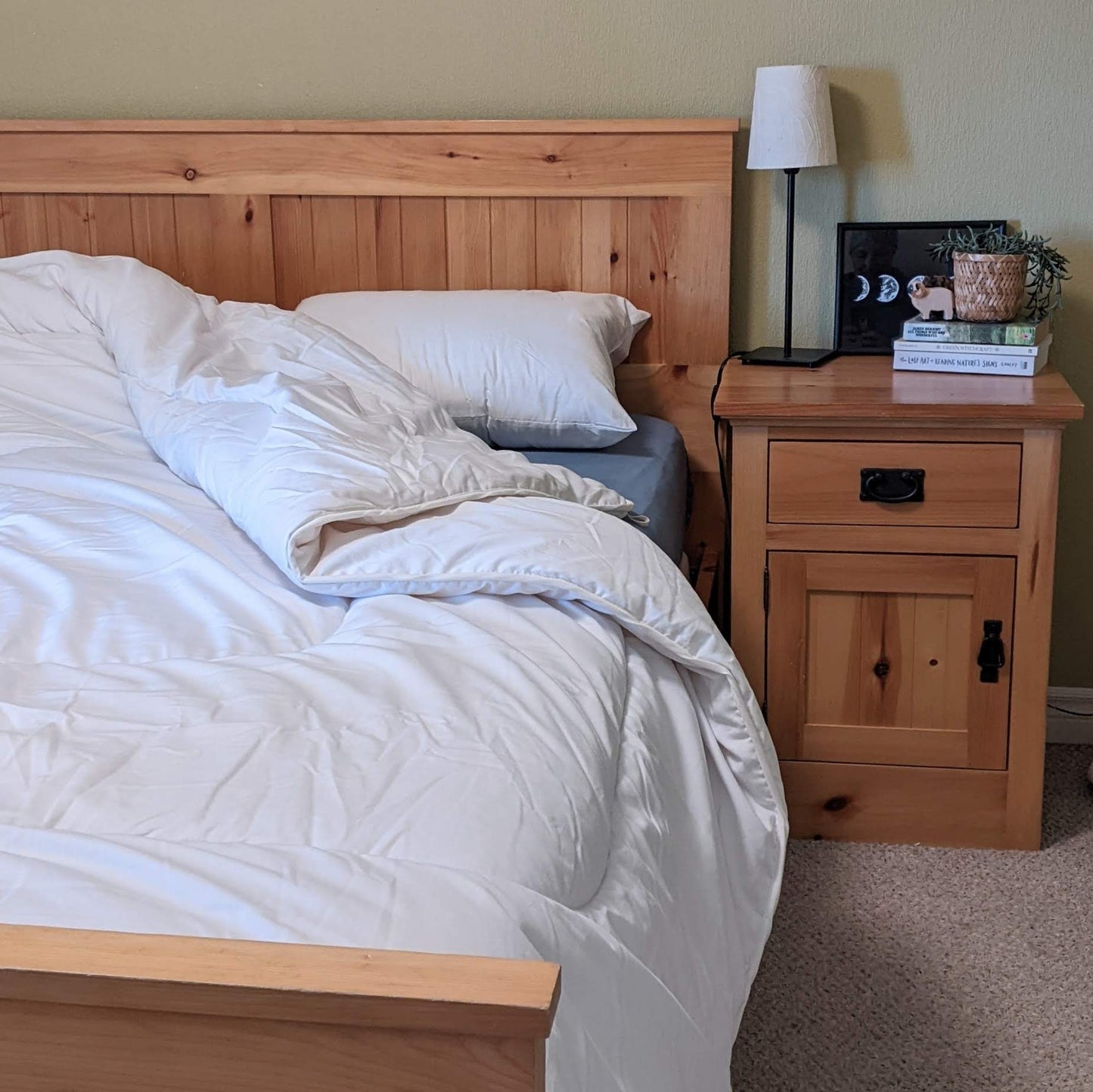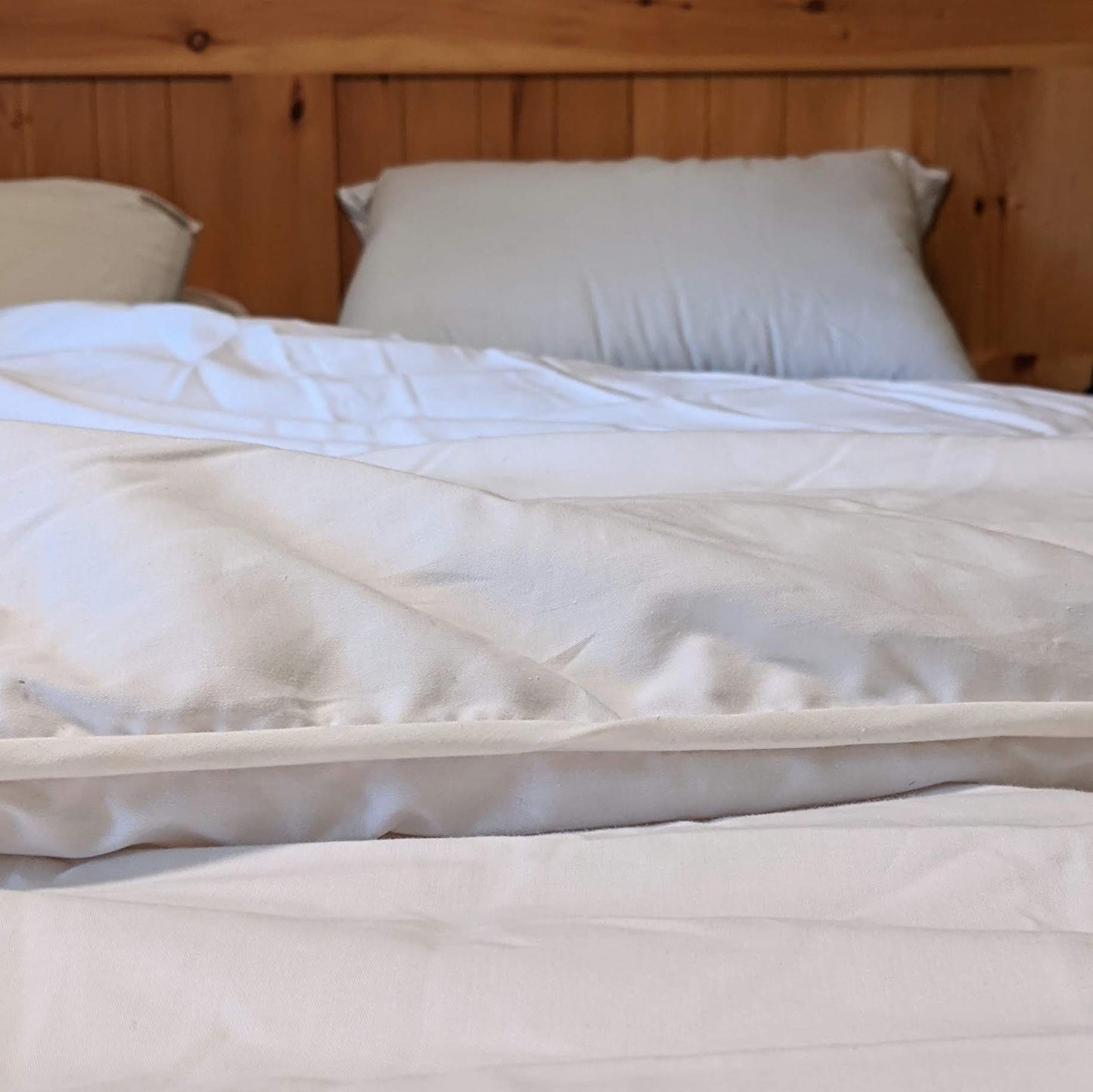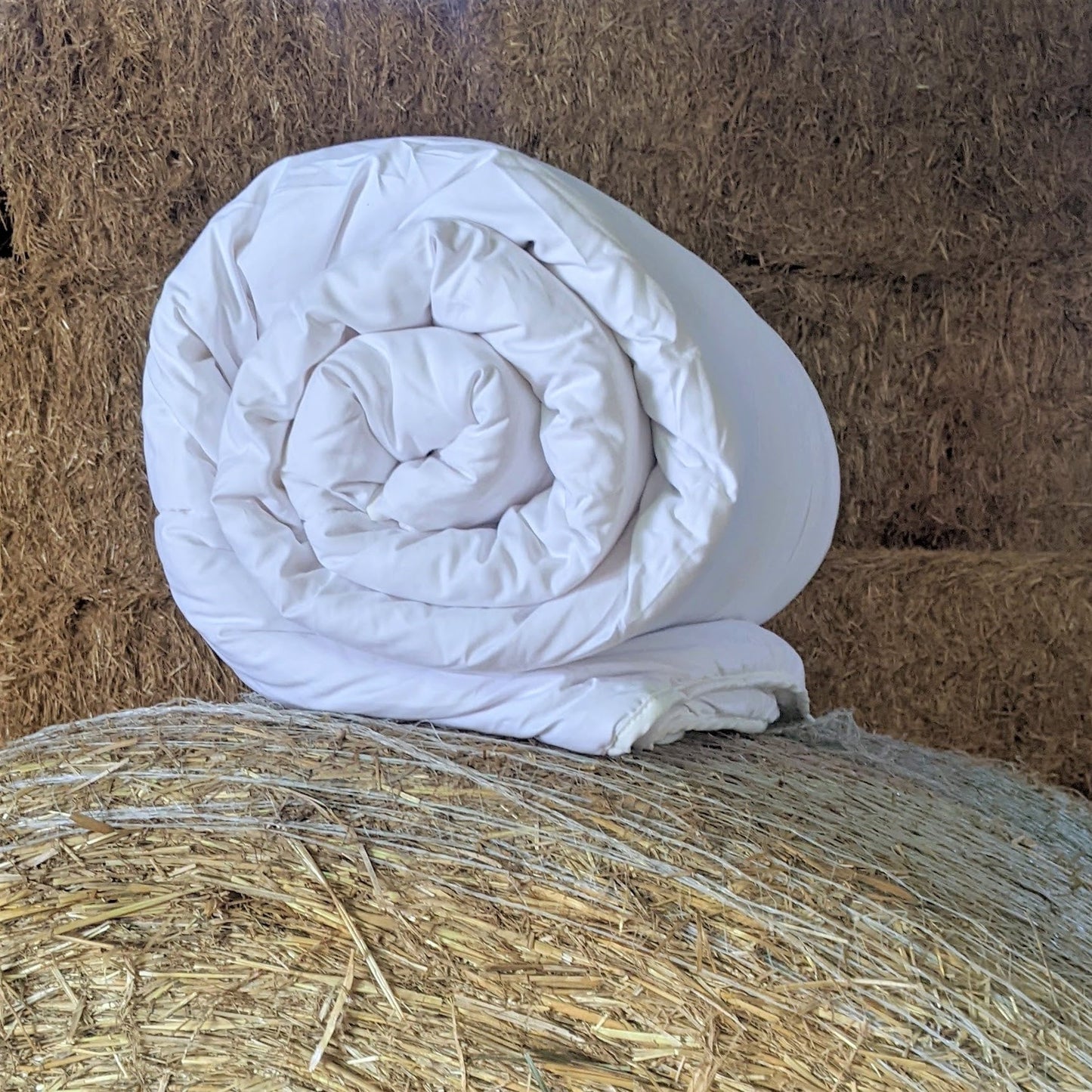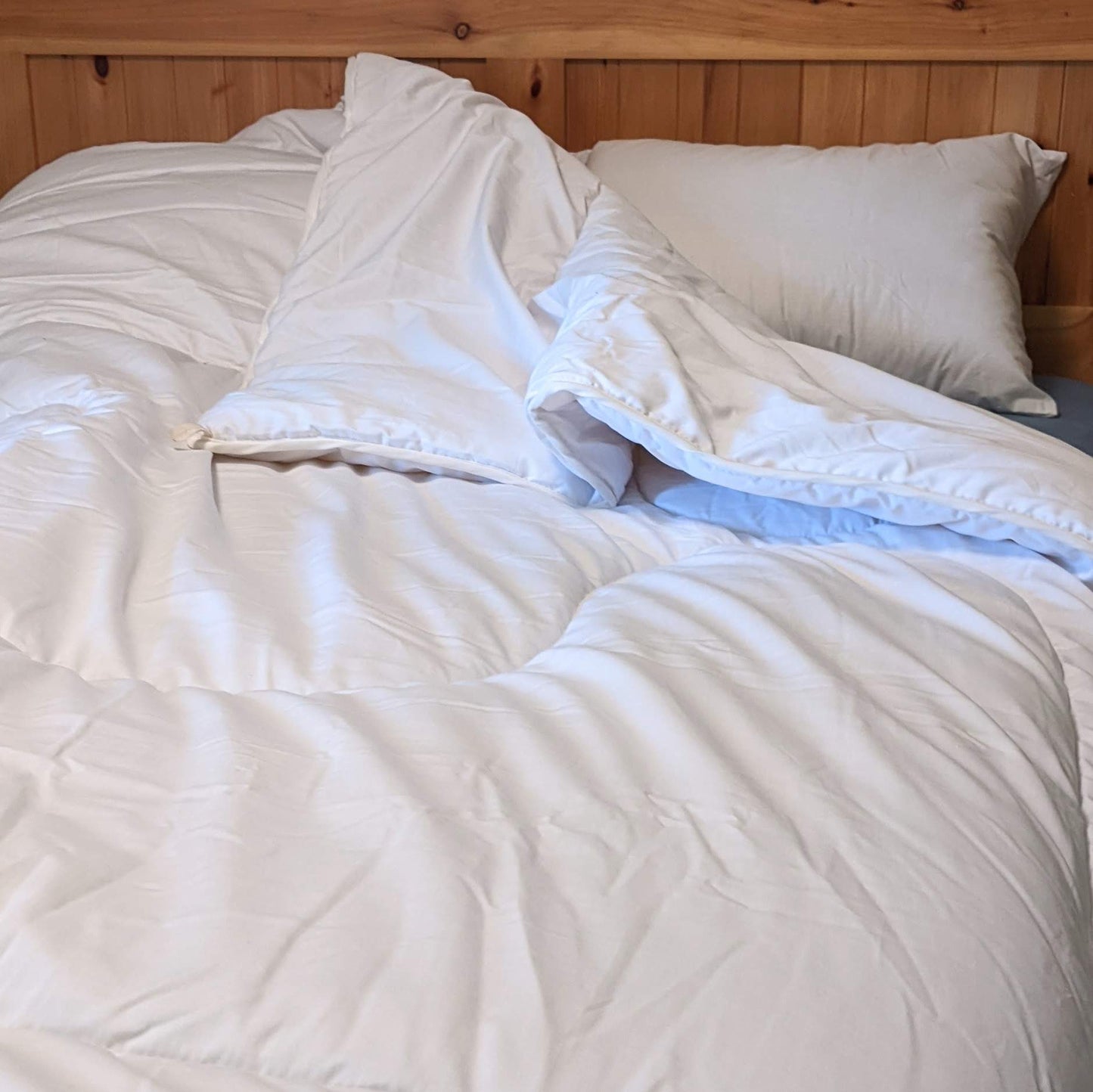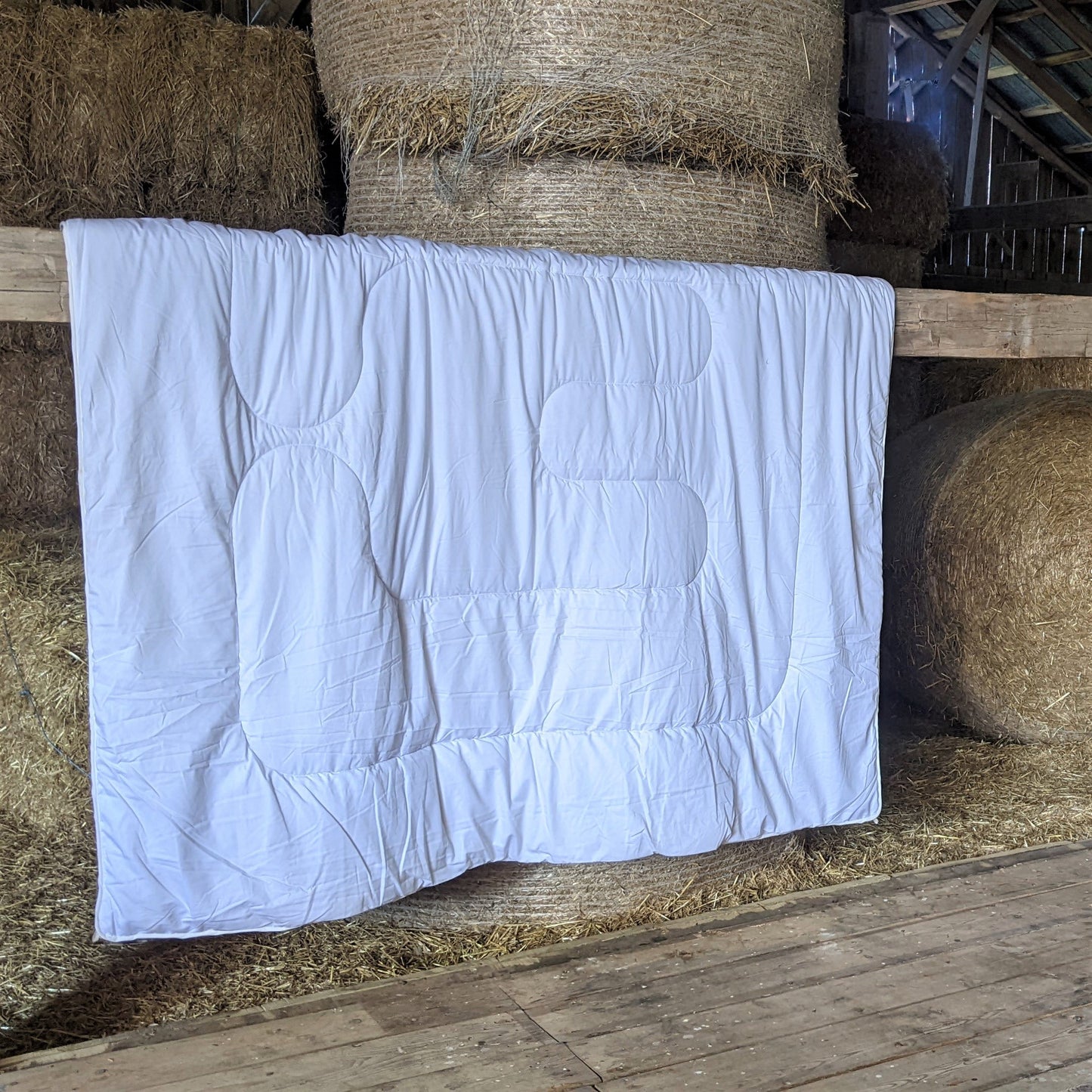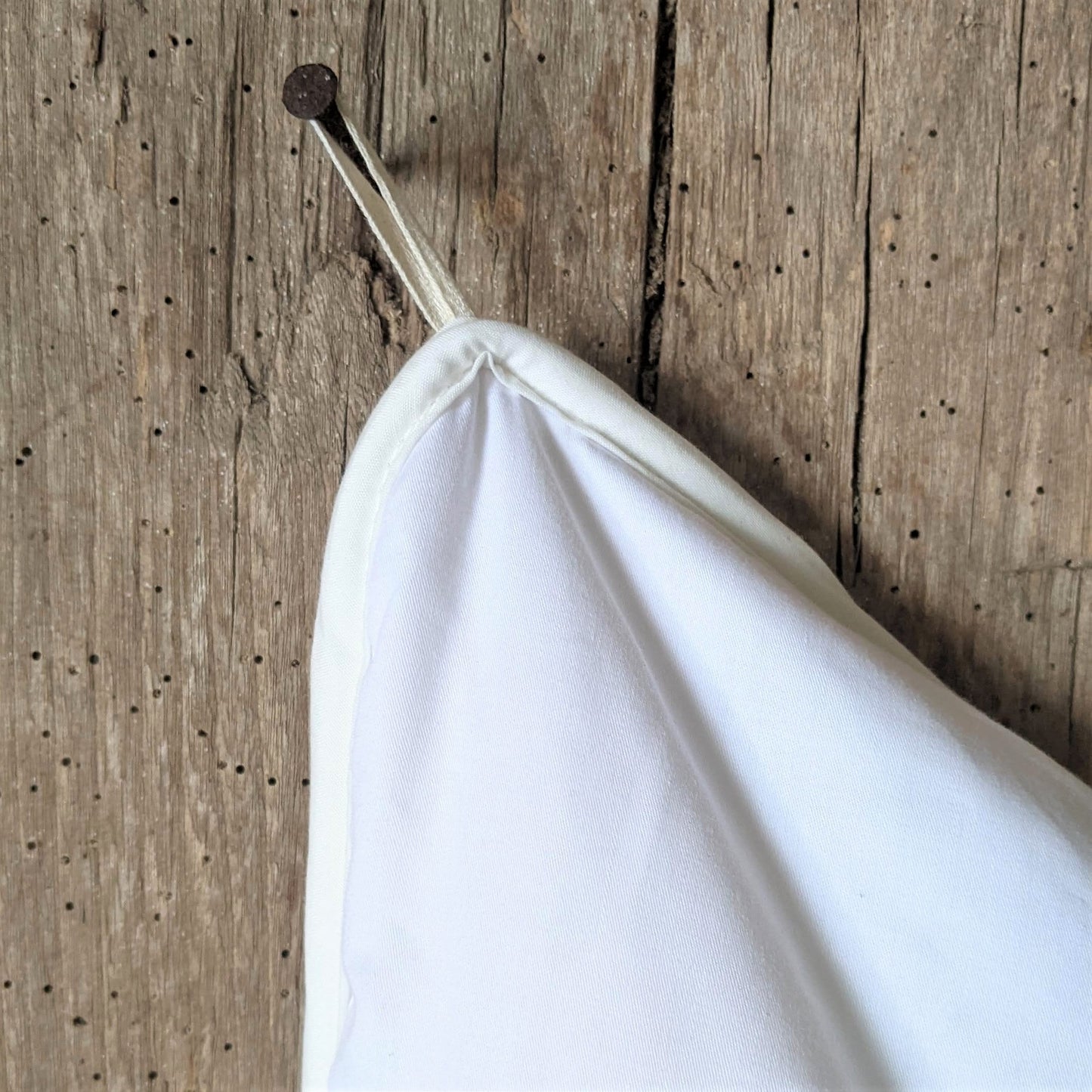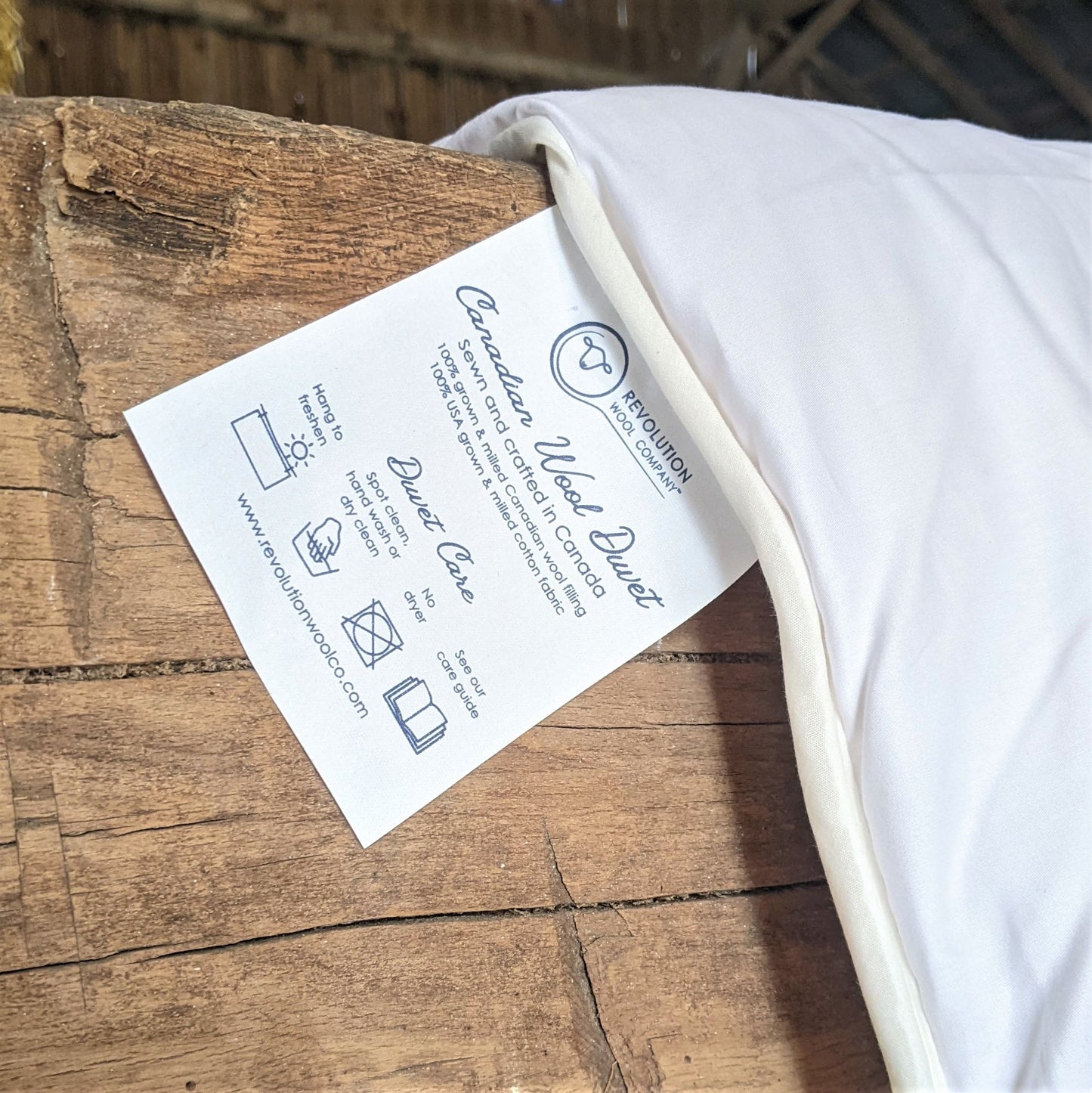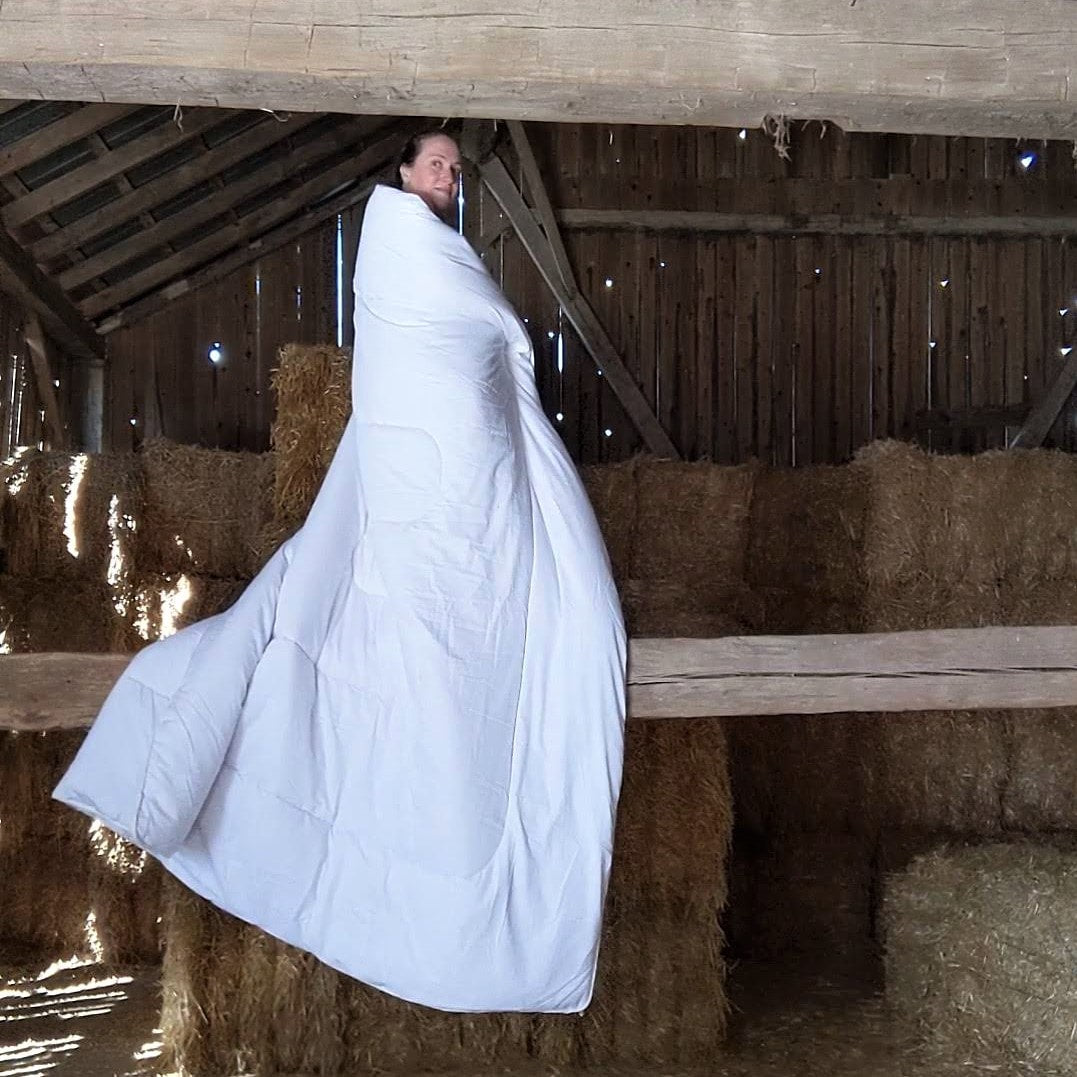 Wooly warmth
So, I've used my duvet already, though it's not even winter. Remember those cool nights right after last week's little heat wave? This arrived just in time. So perfect to ward off a chill. I'm looking forward to snuggling under it when it's time for winter flannels. (Which is about the only thing I'm looking forward to, where winter is concerned…)
I replaced my old down duvet with a wool one. Ever since I bought it I have been letting the wood stove go out overnight because it is SO WARM. My favourite thing about it is that the filling never shifts so you don't need to fluff it up constantly.
We've only used it one night but it was so so nice and cosy. My body temperature stayed perfect all night. It's heavier than a down duvet, so you feel tucked into bed.